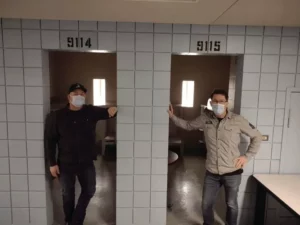 Folsom Prison Experience coming to St. Michael
Show was created at Le Musique Room
The Folsom Prison Experience is coming to St. Michael to allow guests to witness for themselves what it would be like to be a prisoner who had Johnny Cash perform for them. Performances will be from May 11-12 at the Le Musique Room in the St. Michael Cinema.
"The performance has the element of improv that lends to a chance of something wild happening between the inmates (audience) and the performers," said Jay Ernest, who will be playing Johnny Cash. "The acting and improv talent onstage lends to exciting and unpredictable situations."
The sights, sounds and feelings are meant to simulate what it would have been like to be sung to in a prison by Johnny Cash when he was doing his live recording Jan. 13, 1968. Guests are encouraged to dress in prison outfits if they wish to be fully immersed in the experience.
"This show was conceived and born at the Le Musique Room," co-creator Tom Pickard said. "We workshopped this production at Le Musique Room on the heels of COVID. It's home to [Folsom Prison Experience]."
The Folsom Prison Experience was co-created by Tom Pickard and Jay Ernest. Ernest will also be playing Johnny Cash. Along with an ensemble cast who will make up the audiences' warden (played by Dan Hopman), Hugh Cherry (played by Ryan Maddux), lead guard (played by Ryan Nelson), members from the Hitchville band who will be playing with Johnny Cash and a host of guards and inmates, the show will strive to feel spontaneous and unique every night.
"We want the audience to be transported back to 1968," Ernest said. "Not only to see the show from a separate point of view but also to get a glimpse of what it would have been like living the life of an inmate. Whether you are a fan of musical theater or a Johnny Cash fan, this musical is highly entertaining."
Both Ernest and Pickard are experienced in the field of music and theater. Ernest has been in over 4,000 shows in 10 countries and 32 states and has recorded more than 20 albums. He is currently the lead singer of the band, Church of Cash. Pickard is a 40-year veteran in the music industry who has worked with many artists as a production manager and audio engineer. He also owns his own production company called Revolution Arts.
The fluidity and spontaneity of the show allow for it to be pliable for any venue, but the Folsom Prison experience was originally written for the St. Michael stage. Ernest has found that the St. Michael audience is spirited and acts well with the scenarios that they have created and looks forward to sharing the experience with them.
For more information on the Folsom Prison Experience and to buy tickets go to folsomprisonexperience.com/home.