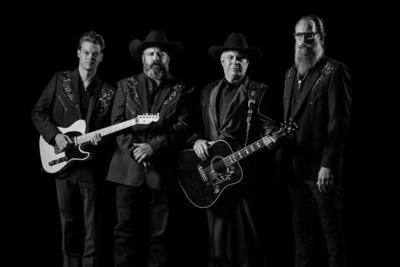 SOLON SPRINGS – Jay Ernest, the driving force propelling Minneapolis-based Church of Cash, and his bandmates bring the iconic Man in Black, Johnny Cash, to life on Saturday, July 9, at 7 p.m. at Lucius Woods Performing Arts Center in Solon Springs.
The award-winning Church of Cash is a premier Johnny Cash tribute show band. When the house lights go down, Cash is immortal, thanks to Ernest on lead vocals and acoustic guitar; Jonathon TeBeest on drums, percussion and background vocals; "Jumpin'" Jack Mansk on electric, baritone and acoustic guitars and background vocals; and Tony Wirth on bass, upright bass and background vocals.
"I want to be known as the best Johnny Cash tribute show in the world," says Ernest. "We have the credibility, and we have four studio albums as Church of Cash. I grew up loving the sound of the choir and the booming voice of Johnny Cash. This is in my blood."
The latest of those four studio albums is "Flowers for June," released in October, which features a spate of inspired Cash covers, including "Ballad of a Teenage Queen," "Thing Called Love," "One Piece at a Time," "(Ghost) Riders in the Sky" and "One on the Right Is on the Left."
Ernest and his Church of Cash have toured the United States, Belgium and the Netherlands. In 2019, Church of Cash received "Best Tribute Act 2019" honors from the Midwest Country Music Organization. In 2021, Ernest, and by extension the Church of Cash, was inducted to the Minnesota Music Hall of Fame. Now, there's an original musical theater-meets-concert event titled "Folsom Prison Experience" written by Ernest and pal Tom Pickard.
The band relocated to Minneapolis in 2010 after forming in Honolulu in 2009.